In CRM.me, we've taken the idea of a Kanban board and applied it to stages in a sales cycle. The result is a nice big-picture look at Opportunities.
Kanban can be viewed from the Opportunities list view. A grid view of search results is listed by default. You will notice 2 buttons are the top right hand side of the view:
To enable to kanban view, click the button at the left. To view your results in the regular grid view, click the button on the right. You can use the search panel to further filter the results displayed.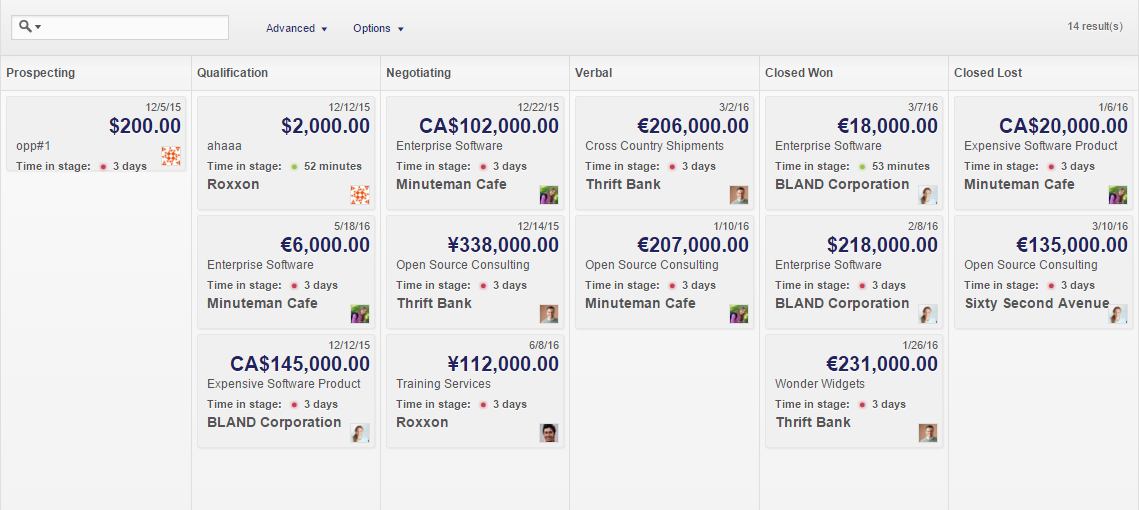 Rather than having to go into the edit view, an Opportunity sales stage can be changed simply by dragging the whole Opportunity to a different column.
You can customize your kanban view by clicking the Options button. Here, you can select which sales stages to display, as well as the background image.

How many cards appear on the kanban?
By default the kanban will limit the number of opportunity records shown to 50 when the kanan view is selected.  We encourage users to add search criteria like "Only my items" to limit the records shown on the kanban and keep the view relevant.
The default number of kanban cards that will load can be changed by any admin user following the steps below:
Login as an admin level user
Open Administration >> Global Configuration
Change the Opportunity Kanban items value to the default number of kanban cards you wish to load
NOTE: The Opportunity Kanban items value does have an upper limit.  Should you need to extend the upper limit further for any reason simply contact our support team at support@crm.me.